What is Jeffries Compost Service?
Jeffries Compost Service collects and recycles your compostable materials and foods scraps, diverting them from landfill and turning them into high quality compost, soil, mulch and organic fertiliser products.
How it works
Jeffries provides a compost collection service across metropolitan Adelaide, from a minimum of once a week and up to 6 days per week in selected areas.
A specialised Jeffries Compost Service truck and driver will collect the 140, 240 and 660 litre bins from your nominated collection point.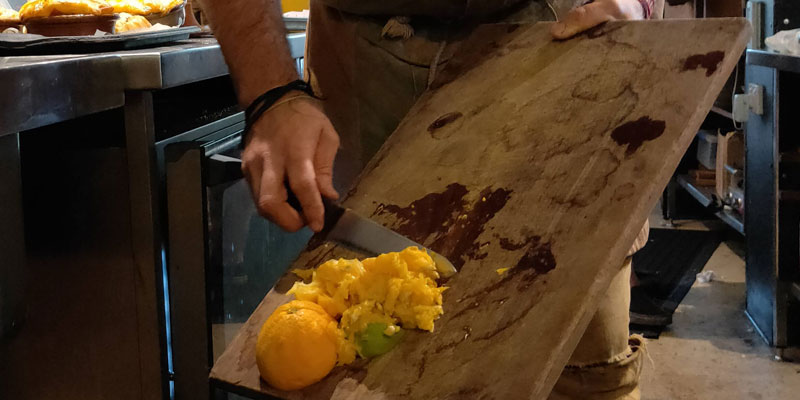 More affordable for you
Sending material to landfill is increasing in price every year. It is now significantly more cost effective to recycle your unwanted goods than to put them in general waste. General waste is a waste of resources.
Optimised Collection
We can collect on a schedule that works for both parties and set you up with whatever bin size works for you. You can have as many green bins as you have space.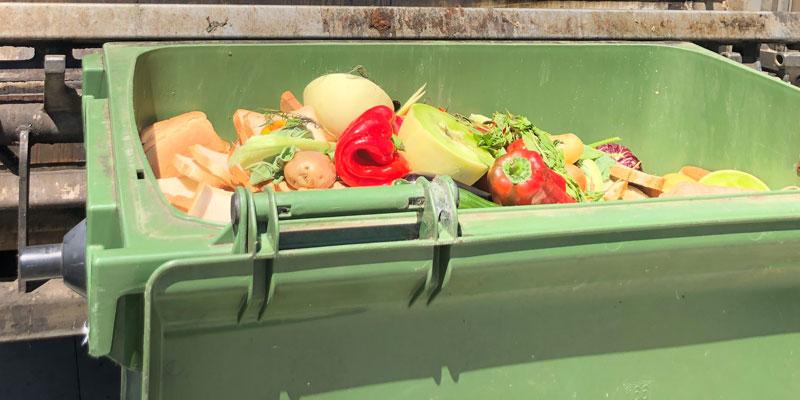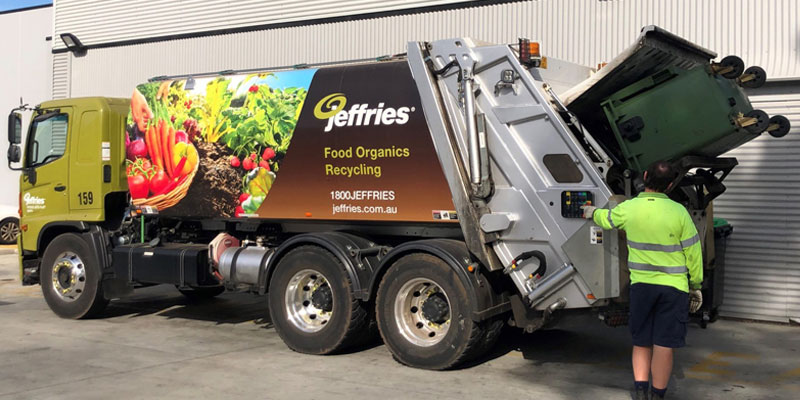 Strong Partnerships
We are partnered with the best waste and recycling service providers. We are able to work with your current provider to give you the most seamlessly service possible.
Ongoing Support
Jeffries work with you to get the most out of your green bin service. We don't dump and run, we offer support and educational material to help you train your team how to recycle effectively.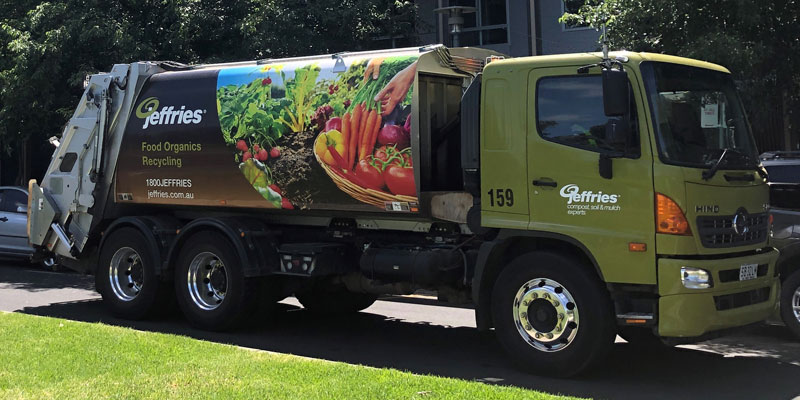 Meet some of our Gold Star Recyclers
Join the composting revolution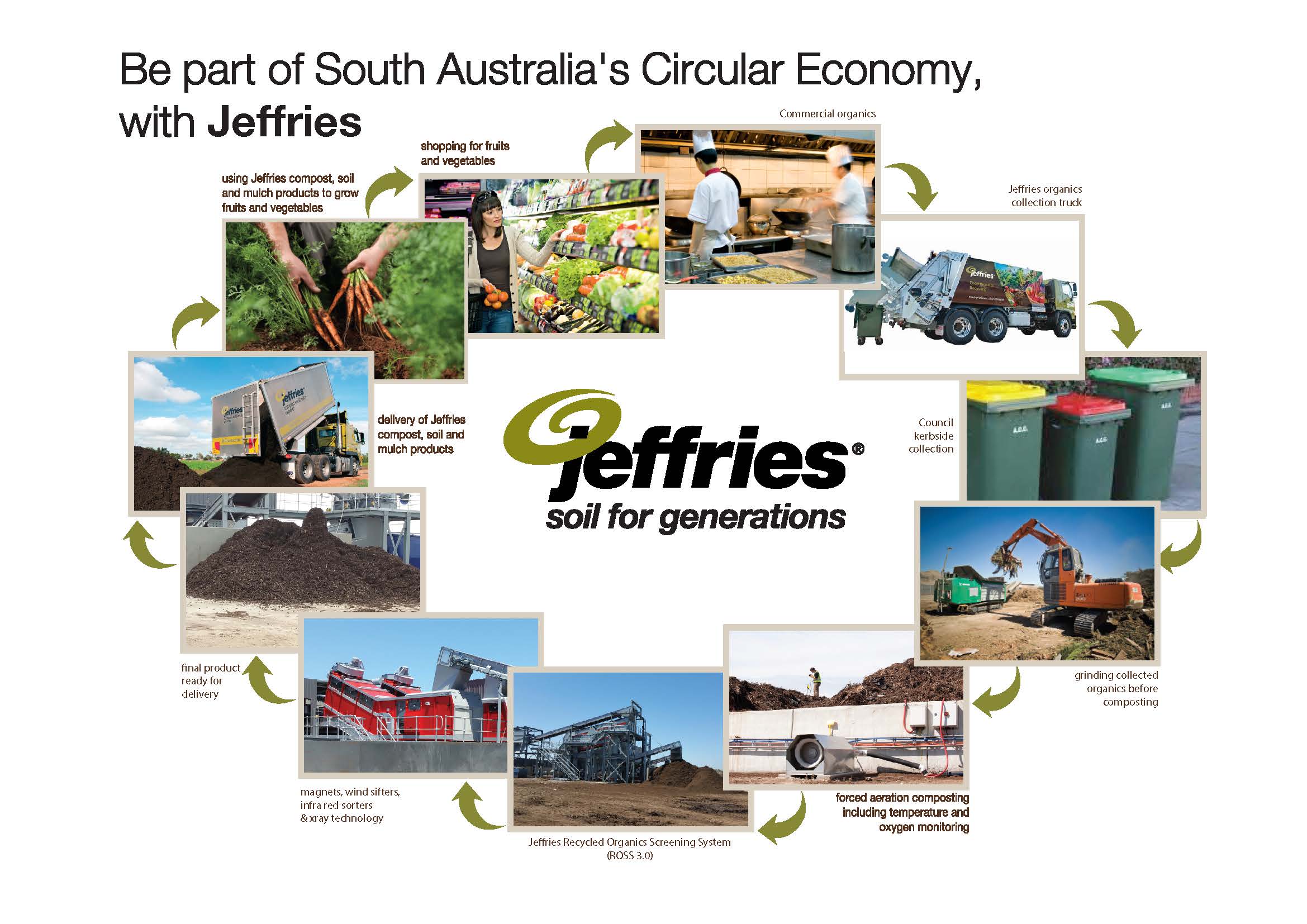 Enter a few details below to get the ball rolling
Here are some of our most frequently asked questions…
WON'T MY BIN SMELL?
Food scraps smell in any bin regardless. As it is a regular service, the organics should be taken away before they sit for too long. Regularly cleaning bins or utilising a com-postable liner can also help to minimise odour.
DOES JEFFRIES CLEAN THE BINS?
Jeffries does not clean the bins but we can provide details of a cleaning service.
HOW CAN I KEEP MY BINS STAYING CLEAN?
One tip to keeping bins clean and to reduce odour is to use compostable liners. Alternatively, you could also use old paper and cardboard boxes to line the bottom of your bin.
HOW OFTEN DO THE BINS GET COLLECTED?
You can choose to have your collection from a minimum of once a week and up to 6 days per week in selected areas. We can collect on a schedule that works for both parties.
What if access to my driveway is pretty tight?
If you think access may be an issue please give us a call, we haven lots of options including our Jeffries PowerScaper, which can reach up to 100m away.
Do I need to create an account?
No, you can check out as a guest but you will need to supply all of your details so we can deliver to you and the driver can call you if there are any questions. We take your privacy very seriously and will never share your details.
What is a unit?
1 unit = one cubic yard (or 0.76m3). To put this in perspective, this is approximately one 6×4 trailer load. The landscaping industry often still uses cubic yards as that's how much a bucket of a loader can hold.
How much do I need?
Use the handy calculators on each product page in the shop. We recommend laying mulch at 8-10cm thick.
Can I plant straight into compost?
Compost itself is not a growing medium, but a soil conditioner or soil amendment. It is organically rich but more of a good thing is not necessarily better. Using excessive amounts can create too much warmth for the plant roots and may not provide adequate drainage. Apply approximately a 3cm layer and mix it into your soil to provide the right mix.
Can I use Afterpay?
Currently, Jeffries does not have Afterpay, Zip Pay or other similar buy now pay later systems.
Have a different question?
We're here to help!
The Team at Jeffries are here to help you make your job easy!
Contact Ben Randall-Smith, Organics Recycling Account Manager, or one of our friendly Jeffries Compost Service Representatives.
p

08 8368 3555
Or view our brochure here.