Jeffries
City, Soil & Food Tour
September 2023
At Jeffries we have had our hands in South Australian soil for generations, growing strong since 1842. Driven by wholesome family values and innovation, we have developed world-leading organic recycling technologies and collection partnerships.
Combining our passion and process, the team at Jeffries delivers premium compost, soil, mulch, fertiliser and biochar products for farmers, viticulturists, landscapers and home gardeners. Together, we are securing the future of healthy soil for generations to come.
We are proud of our role in the circular economy. Material that is recovered is turned into compost, soil, mulch, fertiliser and biochar products and returned back to SA soils building valuable carbon and soil health. In this enriched soil fruits and vegetables are grown that go on to be consumed in restaurants and households around South Australia, where the leftovers can then be recovered by Jeffries. This closes the loop on the organics circular economy to enable it to thrive locally and successfully in South Australia.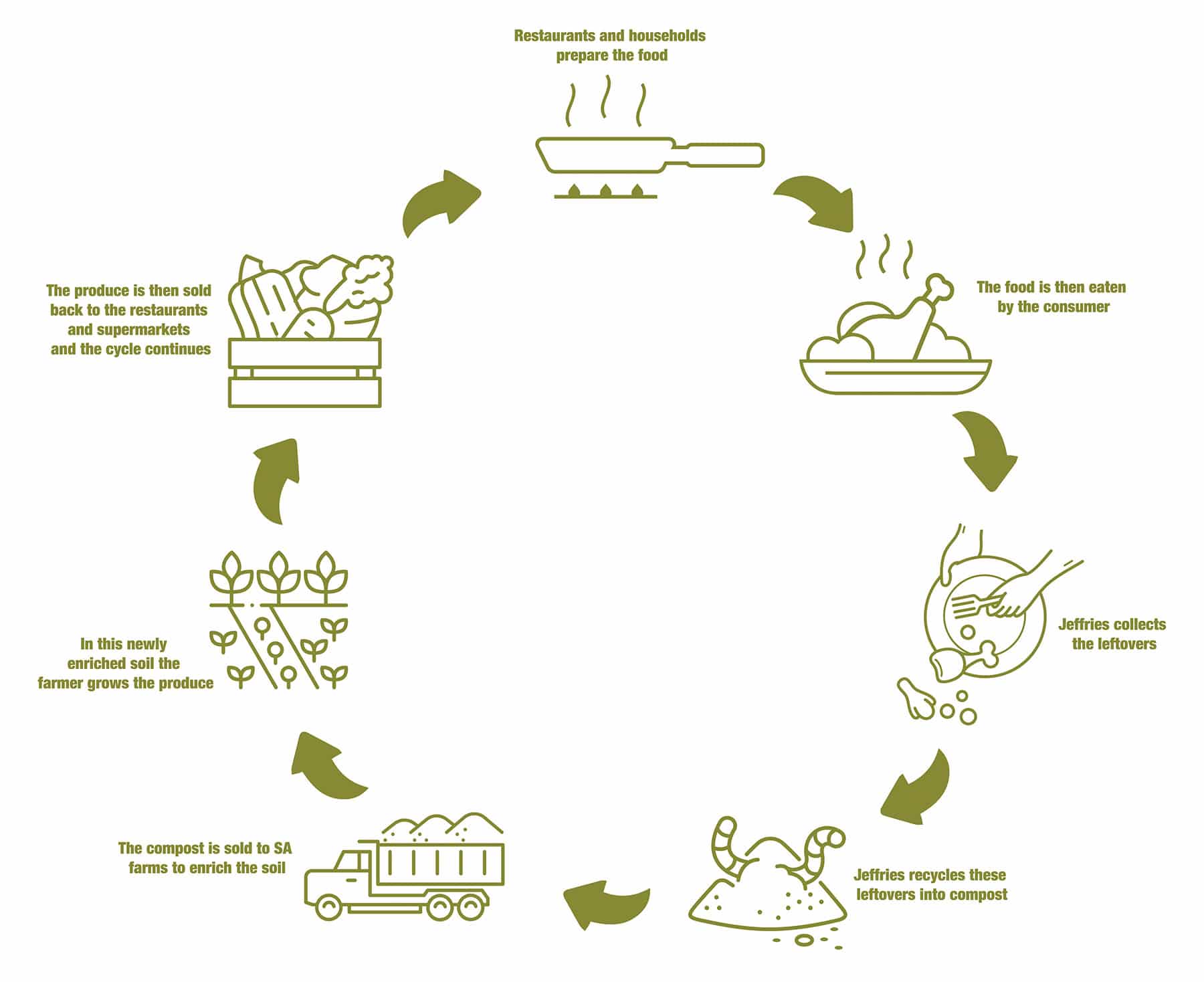 Local Government – Kerbside
Jeffries work alongside many of Adelaide's most sustainable Councils through the collection of materials from Kerbside green bins. We receive materials from over 5 million bins every year and this number is growing as more Councils roll out weekly green bin collection.
Jeffries Compost Service
Currently offering the only rear lift organics collection service in South Australia, Jeffries have aptly named this recycling service the Jeffries Compost Service. We pick up directly from a range of businesses across Adelaide including hotels, hospitals, cafes, restaurants, animal shelters, bakeries and more. This material is rarely contaminated due to us offering face-to-face education and support to our customers. A side benefit to running this service is the ability to see emerging trends and be aware of changing tides. We have witnessed first-hand the benefits of industries moving away from Single Use Plastics and towards Certified Compostable bioplastics and other compostable materials.
Recycling Partnerships
As well as receiving material from kerbside green bins and from our Jeffries Compost Service, we also have strong partnerships with all major waste and recycling providers, and large landscape maintenance businesses in South Australia. This allows us to receive bulk amounts of garden organics, that may have otherwise been sent to landfill or used as capping, that we can recycle into our high-quality products.
Wingfield Site
Jeffries have two sites, both in the North of Adelaide. Our Wingfield site, located in the Wingfield Waste Transfer Station, is where we receive most of our material. This material is kept in 5 piles – chipper mulch, clean green, clean timber, kerbside organics, and liquid organics. This material is transported to our Buckland Park facility for processing.
Buckland Park Site
At Buckland Park, we use a forced aeration technique that allows our compost to evenly have access to oxygen, promoting a better environment for microbial growth. This means less mechanical turning of the heaps leading to less reliance on diesel. Our composting process meets Australian Standards, requiring our compost to cure for at least 8 weeks before we process it further. Our market ready products are free of weed seeds and disease due to our high standards of processing.
R.O.S.S.
As leaders in developing systems to best handle large quantities of green organics, we have engineered a world-class processing plant, which we affectionately call ROSS. (Recycled Organics Sorting System). We have made a major addition to our Recycled Organics Sorting System, ROSS 3.0 which includes an innovative conveyor system, magnets, wind sifters, infra-red screening, state of the art x-ray technology (unique in the southern hemisphere) and a water bath for reclaiming organics. ROSS 3.0 can now also accept 4 times as much composted product as its predecessor, making processing faster, higher quality and more efficient. All inorganic material collected is sorted and sent off for recycling with one of our key partners.
BioChar and Fertiliser Plants
In 2021, we commissioned one of the largest biochar plants in the Southern Hemisphere. Fuelled by oversized woody green organics, our plant is designed to produce around 1500 dry tonnes of biochar each year. Jeffries BioChar is a very stable form of carbon which when returned to the soil, safely stores the carbon out of the atmosphere for hundreds of years.
Not only does the our plant create high quality biochar, it also generates its own energy. The syngas produced by pyrolysis in the creation of Jeffries BioChar is used to power our operations including R.O.S.S. Any unused power is exported to the grid.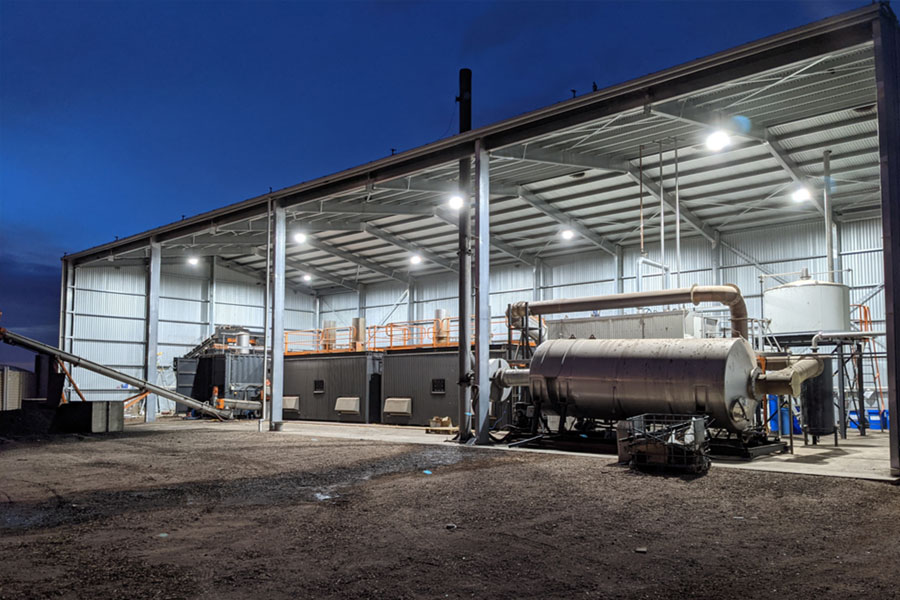 Jeffries compost, soil, mulch, fertiliser and BioChar products are of the highest quality on the market. We take pride in our certification. Using Jeffries products can help increase crop yield and grow healthier plants by adding nutritional benefits to soil, increasing soil carbon, improving water retention, and reducing water evaporation.
Since we receive such a wide variety of incoming material, our composted market-ready products are full of microbial life. This microbial life can lead to plants that are more resilient to changing conditions and can fight off plant diseases. With climates changing and populations growing it is critical that plants become more robust.
Agriculture
A large portion of our products are bought by our agricultural customers from Victoria, New South Wales, and South Australia. Jeffries have been working with farmers since we were farmers! We have a knowledgeable team who are passionate about revitalising soil and helping growers get the most out of each season. We work closely with organic growers as our compost is not just certified to Australian Standards but is certified Organic by NASAA.
Landscaping
Jeffries products are used by leading landscapers and gardeners across South Australia. We have the only certified Softfall to Australian Standard AS4422 in the state (Jeffries Playscape) and the only soil to meet Australian Standard AS4419 (Jeffries Special Soil). Not only are we renowned for our compost, soil, mulch, fertiliser and BioChar products in this market but for the Jeffries PowerScaper. The opposite to a Vac Truck, the Jeffries PowerScaper can blow up to 2000m2 a day, saving customers valuable time and labour whilst improving work health and safety. It is ideal for sites with difficult access, delicate landscapes, and playgrounds.
Jeffries are foundation partners of the Master Landscapers Association of South Australia and State Sponsors of Australian Institute of Landscape Architects. We love supporting these industries, to aid in their growth and to help associations that back industry professionals.
Home Gardens
Just like our trade and recycling partnerships, Jeffries has spent decades cultivating strong relationships with local landscaping yards, garden centres and nurseries. From Aldinga to Barossa Valley to Mount Barker, we work with a range of resellers to ensure any Adelaidian can have access to Jeffries high-quality products.  We operate an online store that supports our relationships with our stockists.
Selling our products to home gardeners allows us to close the loop directly with those who recycle using their green bin. Many people across Adelaide are part of this circular economy.
Jeffries are a family owned and operated South Australian business. With a team of 80 across two sites, we process over 150,000 tonnes of organic material a year. We exist to create value from organic resources.